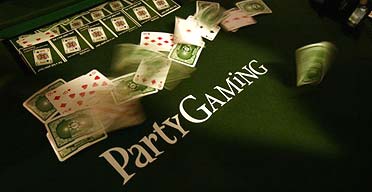 I have been blogging about player safety in
internet poker
for four years now and Party Poker has been one of the few sites that during this time has both avoided cheating scandals and consistently appeared on my Top-10 rankings for the safest poker sites. In addition to its clean record as far as cheating and player-accounts security are concerned, Party Poker has also been a leader in offering the best player sign-up bonuses as well as maintaining top of the line customer support and service, with online response times among the best in the online gaming industry.
Another field of excellence from Party Gaming is its
online betting
and sportsbook offering accurate wagering lines on various sporting and gaming events from all over the world including American, Australian and European professional leagues as well as wagering opportunities for popular lawn and pub games like cricket and darts. Just about all the action you can think of is waiting for you at Party Poker, so if you´re new to Internet Gambling or you´re a veteran looking for a change for the better, don´t hesiteate to sign up.
My advice is that you can feel safe and protected from cheating scandals when playing on Party Gaming´s sites.
Join the world's premier
online poker
room and enjoy a range of exciting tournaments. Play
Omaha Hi Lo Poker
in our busy poker rooms, with free practice play, and a range of money play games.
Labels: online poker cheats and cheating